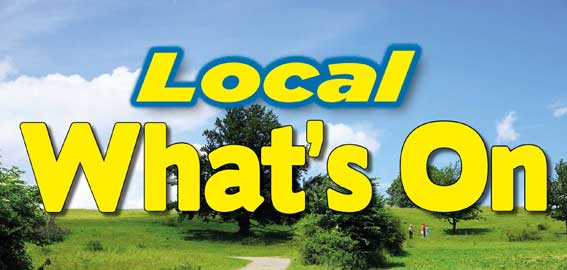 ---
JANUARY 2020
A calendar of fun events and performances, for all ages, in the local area over the next month…
---
Redcar Town Market
When: Every Friday, 9 am to 4 pm
Where: High Street, Redcar
What: The Market is set in the heart of Redcar High Street near the King Edward VII Memorial Clock, with local traders selling a range of different goods including, fresh eggs, women's clothing, children's toys, pet supplies, children's clothing and much more
Contact: 07938 190062
---
Redcar Alternative Market
When: First Saturday of each month, 9 am to 4 pm
Where: High Street, Redcar
What: An alternative market in Redcar
---
Guisbo

rough

Market
When: Every Tuesday, Thursday and Saturday, 9 am to 4 pm
Where: Westgate, Guisborough
What: Traditional Market in Guisborough
---
Tea

Dance
When: First Tuesday of each month, 2 pm to 4 pm
Where: Loftus Town Hall
What: Tea Dance in Loftus. Entrance is £1, including tea and biscuits
Contact: 01287 641000 or email: office@loftustc.co.uk
---
Saltbu

rn Farmers

Market
When: Second Saturday of the month, 9 am to 4 pm
Where: Saltburn Railway Platform, Saltburn
What: Free farmers market
Information: www.saltburnfarmersmarket.com
---
Little Flowers Baby and Toddler Group
When: Mondays 12.45 pm to 2.15 pm (term time only)
Where: Ingleby Barwick Community Hall, Haresfield Way, Stockton-on-Tees TS17 0YL
What: 0 to 3 years Baby and Toddler group. Booking is Essential – £1.50 per family for up to two children, 50p each child after. Click on Facebook event as going (to assist with numbers). Refreshments are included. Everyone is welcome. Varied programme of fun events @littleflowersbabytoddlergroup
---
American Tribal Style Bellydance Classes
When: Every Monday evening, 5 pm to 6.30 pm
Where: Earthbeat Centre, Saltburn
What: American Tribal Style Bellydance Classes for beginners and improvers
Contact: 07504 827131 or email tribetattva@icloud.com
---
Heart and Soul Dance Class
When: Every Thursday evening, 7 pm (Lesson), 8 to 10.30 pm (Social Dance)
Where: St Mary's Hall, Morton Carr Lane, Nunthorpe
What: Ballroom, Sequence, Cha Cha, also social dances. Beginners and singles most welcome
Contact: Ronnie on 07740 265956
---
Community Stepping Stones
When: Various events during the week
Where: Farndale Square, Dormanstown, Redcar TS10 5HE
What: A new service, Community Stepping Stones are a non-profit organisation and are running a number of events in their small cafe hub… Monday and Wednesday – Knit and Natter, 11 am to 2 pm, no need to join, £2 entry but this includes a free drink – bring sewing, knitting or crochet. Can't do these? They will teach you. Thursday – Games afternoon, totally free. Just visit them and they will introduce you. Not just cards and dominos. Friendship Friday – 1 pm to 3 pm, totally free. Pop into the cafe, say hello, and you will be introduced to friends. No need to be alone. The Community Stepping Stones Cafe is about providing a venue for the community to meet and eradicate loneliness and isolation.
Contact: 01642 494407 for further information.
---
Strictly Inspired Dance Class
When: Every Monday evening, 7.30 to 8.30 pm
Where: Conyers Go Sport Gym, Green Lane, Yarm, TS15 9ET
What: Go along and dance like the stars, with basic ballroom and latino moves that Ian Waite & Natalie Low have put together, to get you 'fit and happy'. No partner is required, two left feet welcome!!! It's a fab dance workout with a difference
Contact: Amanda on 07858 589235 – Fitsteps classes on Facebook
---
The Wizard Of Oz Ballet
When: Sunday, 12th January, 7.30 pm
Where: Billingham Forum Theatre, Queensway, Billingham, Stockton-on-Tees TS23 2LJ
What: Join Ballet Theatre UK as they follow the yellow brick road and discover all the wonders of Oz. Enjoy Dorothy, the Scarecrow, Tin Man, and Lion, (and yes Toto too) as they seek the Wonderful Wizard to find that there's no place like home!
Box Office: 01642 552663
---
Men's Over 50's Exercise Class
When: First Session is Friday, 17th January, at 1 pm
Where: Thornaby Pavilion
What: Calling All Men aged 50+… Make that change! New session of mixed gentle exercise starts in 2020. Go along and try the free Friday sessions that include gentle circuits, badminton, walking football and more!
Contact: Ring Gill on 01642 733915 to find out more
---
Michael Portillo – 'Life – A Game Of Two Halves'
When: Friday, 24th January, 7.30 pm
Where: Princess Alexandra Auditorium, Yarm School, Yarm, TS15 9EJ
What: It took Michael Portillo little more than 10 years to get a seat in the Commons and then rise in power to a point where he was a favoured leader of his party and possible future PM. Although his political career then came to a humiliating end, losing his seat in May 1997, Michael has since reinvented and endeared himself to many with his obvious respect for the solid workmanship found in the great railways of the world
Box Office: 01642 792587
---
The Best Of Queen
When: Saturday, 25th January, at 7.30 pm
Where: Middlesbrough Theatre, The Avenue, Middlesbrough TS5 6SA
What: The Bohemians have been paying homage to the world's most theatrical and dramatic Rock band, Queen since 1996, and in that time have had a huge impact on audiences across the world.
Box Office: 01642 815181
---
The Magic Of The Beatles
When: Saturday, 25th January, 7.30 pm
Where: Princess Alexandra Auditorium, Yarm School, Yarm, TS15 9EJ
What: One of the UK's leading Beatles tribute shows. If you're looking for an authentic, lively dose of 'Beatlemania' then you need to look no further! The Magic of The Beatles is one of the UK's leading Beatles tribute shows who play to ecstatic sell-out audiences all over the world
Box Office: 01642 792587
---
The Simon & Garfunkel Story
When: Sunday, 26th January, 7.30 pm
Where: Billingham Forum Theatre, Queensway, Billingham, Stockton-on-Tees TS23 2LJ
Using huge projection photos and original film footage, this 50th Anniversary Celebration features a full live band performing all the hits including 'Mrs Robinson', 'Cecilia', 'Bridge Over Troubled Water', 'Homeward Bound' and many more
Box Office: 01642 552663