Members of Redcar's 'Sisters 'R' Doing It' running group participated in the annual Great North Run in Newcastle on Sunday.
It was an experience that many will never forget…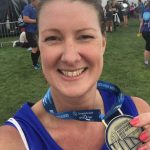 One member of the 'Sisters' group, the Local Answer's very own Justine Smith, was running the event for the very first time and, despite an on-going ankle injury, managed a credible time of 2 hours, 51 minutes and 58 seconds for the 13.1 mile course.
When Justine joined the group she had no idea, that a year down the line, she'd manage such a momentous achievement.
After the run, she commented: "That was brutal, definitely one of the most challenging things I have ever done. I enjoyed parts, hated parts and met some lovely people along the way. It was wet, dry, breezy, sunny, but mostly hot! I've laughed, moaned and cried, but I'm so happy I've completed it!"
The whole group have been very supportive to each other and, together, have managed to push themselves on their marvellous journey.
The Sisters 'R' Doing It group holds running sessions every week, exclusively for women. The group aims to help women believe in themselves, improve their fitness and to socialise and make new friends.
For more information about joining the group and to find out more about the events they hold click here
Photo: (Top) Members of Redcar's SRDI running group celebrating their achievement with ice creams! (Inset) A proud Justine Smith, from the Local Answer, with her GNR medal.